Knowledge Unlatched Announces Launch of Round 2 Collection
Following on from its highly successful Pilot concluded last year, Knowledge Unlatched is delighted to announce the launch of its second collection.
If at least 300 libraries from around the world pledge their commitment by 31 January 2016, 78 new Humanities and Social Sciences books will be made free for anyone in the world to read on an Open Access basis.
The KU Collection includes 78 new books in five subject areas (Anthropology, History, Literature, Media & Communications and Politics) from 26 recognised scholarly publishers:
Amsterdam University Press, Berghahn Books, Bloomsbury Academic, Brandeis University Press, Brill, Cambridge University Press, University Press of Colorado, Dartmouth College Press, De Gruyter, Duke University Press, Edinburgh University Press, Fordham University Press, Leiden University Press, Liverpool University Press, Manchester University Press, University of Michigan Press, Monash University Publishing, Penn State University Press, Pluto Press, Purdue University Press, Routledge, Rutgers University Press, Temple University Press, University of Toronto Press, Ubiquity Press, Yale University Press.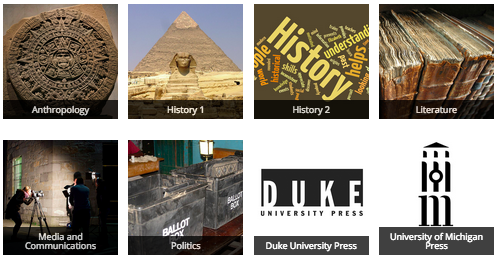 The collection is made up of eight packages – providing participating libraries the choice of supporting all eight or selecting at least six packages.
Knowledge Unlatched is inviting libraries to pledge a capped maximum of US$3,891 to 'unlatch' the whole collection. This is an average of just under US$50 for each book. Publishers have agreed to recognise additional format purchases by participating libraries with a deduction made on the KU unlatching fee.
The Knowledge Unlatched model is based on libraries from around the world sharing the payment of a single 'Title Fee' to publishers, in return for books being made available as a fully downloadable PDF via OAPEN and HathiTrust on a Creative Commons licence upon publication. Because the Title Fee is a fixed amount, as more libraries participate, the per-library cost of 'unlatching' each title declines.
Libraries can view the collection and pledge their interest at: http://collections.knowledgeunlatched.org/
Pledging will remain open until 31 January 2016.
For further details please contact us.
"Lorem modi tempora incidunt ut labore et dolore magnam moditeora incidunt ut labore et dolore magnam."