KU Focus Collection 2022:
Climate Change
For the first time in this year's pledging season, we wanted to offer a special collection containing books from several publishers around one single topical, cutting-edge theme and asked our library partners for their opinion as to which topic they would find most relevant to users both at their own institution and worldwide.

We received a very positive response with almost 80 anonymised votes.

A clear majority of votes for Climate Change made this the clear winner for our KU Focus Collection and the members of the KU Selection Committee (consisting of over 200 librarians from all over the world) voted on the most relevant titles from the submissions made by our partner publishers.
The new Focus collection sits alongside KU Select 2022 HSS Books, is not part of that actual collection.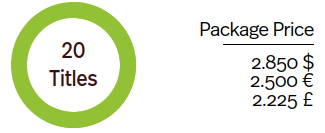 We would be interested in hearing your feedback on our new Focus Collection and to learning of your recommendations for future Focus topics.